Dear <name>,
Updates
2011 Product Guide
Forte's latest Product Guide can be found here.






Your Own Marketing Department
Why not take advantage of LeisureTech's marketing department and have an existing brochure customised with your details. Simply select a brochure from LeisureTech or Forte and phone or email your customisation requirements. We'll send you a file suitable for print & email. Now that's service!



Updates
Did you know…
Each room or zone can have up to 3 local input modules from our two styles, the AB-70 (RCA wallplate) or AB-313 (iPod wall dock).
......AB-313.......... AB-70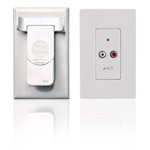 This is great for bedrooms and offices/studies where one AB-70 is used with the TV, another AB-70 is used with the computer/games console and the AB-313 is located next to the light switch for the iPod to slot in. Each are daisy chained via Cat5 and the one furthest away from the hub is the override.


An Apple a day keeps A-BUS aplay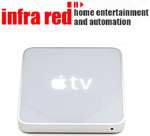 Stan from infra red home entertainment & automation recently installed an Apple TV into an existing single-source Forte A-BUS system.
Using the remote application via his iPad, the client was able to control iTunes music choosing their favourite song ( & cover art) from any room. The client was very excited to have his A-BUS system so flexible with iTunes control.
He also use a Gefen adapter which takes optical out & converts it to line level RCA for A-BUS and a NAS hard drive for storage.
The Remote install sheet can be found here.

It's Raining Kits!
Forte A-BUS kits with their individual wiring diagrams are located here.
Coming soon are the Developer Packs with and without IR Emitter configuration. These Packs include the AB-70 (RCA wallplate without IR) and the AB-301 (RCA wallplate with two IR emitter ports). Traditionally the AB-70 is used as a local source input but using it in conjunction with the ABK-4RJ distribution hub it can be a central source, like the AB-313 wall dock in iSolutions range.
Example pack without IR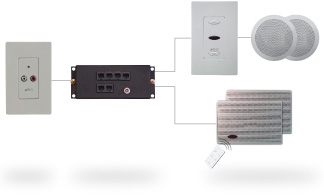 Example pack with IR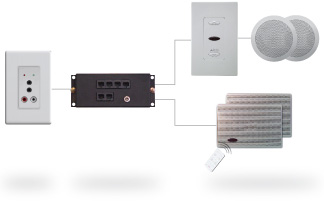 These are a great inexpensive way to introduce Forte
A-BUS to builders & developers. The wallplate can be positioned as the source while the hub can be discretely placed in a laundry, garage, structured wiring enclosure or closet. Developer Packs start from $1100 RRP for a 2 room solution.
Please remember when wiring as the central source use the RJ-45 output from the AB-70, AB-301 and AB-313 to the RJ-45 input on the ABK-4RJ distribution hub.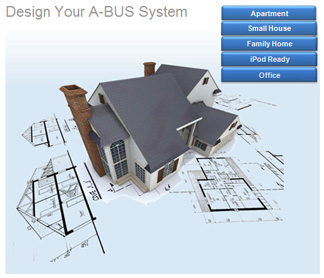 Try the Forte A-BUS design tool, a downloadable interactive Excel spreadsheet. Choose the house type and number of rooms, and you will receive the appropriate kit number complete with a wiring diagram. (Excludes the NEW Developers Packs listed above).

Tip… Ignore Enable Macros once saved.

Local input modules are optional extras and are not part of the kits.
Start here and select the Design button.